The last day of our study tour led us to a white alligator, the probably cheapest science lab of the world and one of the most prestigious universities in the Western hemisphere. I want to share with you my five main take-aways from our "grand finale".
The first stop on our tour was the California Academy of Sciences. Around one million visitors come every year to this renowned science museum situated in the Golden Gate Park to experience the rain forest, learn more about earthquakes and to see Claude, the albino alligator. A less known fact about the CAL Academy: it is also a research institution with more than 100 PhD scientists specializing in biodiversity and sustainability studies.
Amie Wong, Senior Digital Marketing Manager at the California Academy of Sciences, provided us with very helpful insights about their social media activities. My two main learnings from her presentation:
1) Open up to conversation
Social media is all about conversation, right? What seems obvious from a theoretical point of view, is often pretty hard to realize. Amie showed us a great way to engage people in a profound conversation: the reddit AMAs. For those of you who are not familiar with reddit. It´s a forum platform describing itself as the front page of the internet. AMA is an acronym for "ask me anything" and its idea is pretty simple: A person with a certain expertise or who made a special experience in his life answers questions from the reddit community on his expertise/experience. Several researchers of the CAL Academy did AMAs on their study topic and it was a huge success story. In order to resonate with the reddit community, you should make sure to pick an interesting topic and researchers comfortable with this sort of online discussion.
2) Set up systems for asset-sharing
Amie presented to us several key factors to success. One of them seems to me especially helpful for fragmented organizations like universities. She built a system for sharing assets within the CAL Academy. Thus great content doesn't get lost on its way to the social media team.

From Golden Gate Park, we headed back to South of Market to the Zynga headquarters. There we met Komal Dadlani, CEO and Co-Founder of Lab4U, one of the startups of co.lab, the Zynga educational tech accelerator.
Komal found the time (between meetings in Chile, New York and Dubai) to present us the lab4U apps. My third learning of the day:
3) Your smartphone can be a science lab, too!
Lab4U develops apps which use the sensors in mobile devices for scientific experiments. Thus they want to create a cheaper way of learning basics in physics, chemistry and even biology for students whose schools, colleges or universities cannot afford to provide expensive science laboratories. Lab4U is clearly a mission-driven startup. From a Swiss point of view the lab4U apps could be especially interesting for science events.
After a burger "animal style" for lunch we were prepared for the "grand finale", our visit to the Stanford University. John Stafford, Senior Director Digital Media Strategy, gave us a mind-blowing presentation about their way to measure digital engagement. My last two take-aways from our study tour:
4) Humans analyze sentiments better than algorithms
If it comes to social media metrics, normally algorithms do the work for us. Stanford heads in another direction. They use human-powered analysis to understand organic conversation about their university. By using a crowdsourcing tool like Crowdflower, they can measure the effectiveness of their communication and identify reputational issues faster, more specific and more accurate. And it´s not that expensive.
5) Social media is getting more and more fragmented
Relatively new players like Instagram or Snapchat showed us the way: Social media is not another term for Facebook anymore, but has become a fragmented ecosystem with a lot of differentiated channels. The downside for digital communicators: The more (niche) social media channels emerge, the harder it gets to decide which channels your university should use. One of the factors you should consider in the decision process is whether you can reach a new audience segment by using this channel. Stanford for example uses Snapchat now to get in touch with prospective students.
The goodbye dinner at the Lebanese restaurant Mazzat was a good opportunity for thinking back on all the great impressions we got on our study tour. I want to thank Julia and Zanet from Swissnex for organizing this inspiring tour and my colleagues from Lausanne, Zurich and Lugano for being such a great team.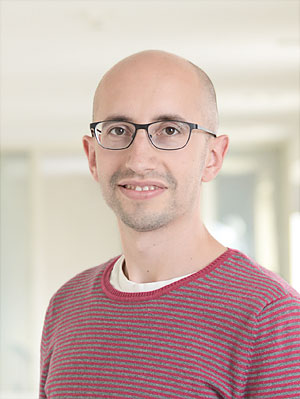 About the author
Sebastian Gibis works as a Digital Communications Officer for the University of Basel and participated in the Digital Campus Study Tour 2016.